I have never written a blog before so I don't know if there is some sort of "blog format" or whatever but here goes. Enjoy.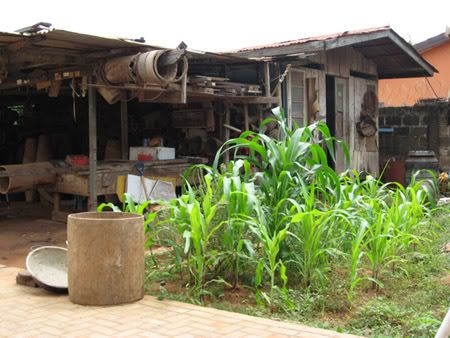 The corn when I arrived at the Amoo's house.
(Accra, Ghana)
When I woke up today I had been sleeping so hard that I forgot I was in Africa. That only lasted for a minute. The roosters, Muslims and Christians have a battle at about 5:30 a.m. every morning. I went back to sleep and woke up again in the afternoon, which was really like 7:00 a.m. in New York. I still can't believe that I'm here. Everything still feels very abstract video montage-ish right now. I haven't gotten used to the time difference yet so I'm always tired. I've been spending most of my time in taxis traveling down long, terracotta clay colored roads that connect into more long, terracotta clay colored roads (some concrete). It's funny how you finally understand a dance once you have to live in it's impetus. Like right now I'm in the Spider Dance (Haiti). The web of intersections and roads on which you can travel to get closer or farther away from your destiny (each strand representing a different path on which one can choose to travel).
My web spinning consists of calling people and creating plans of action about how I will get from one place to the next, where I will go, and what I will accomplish each day. When I return to the web I've created at the end of the day, I clean it (my space and me), eat, and rest. Each day I've done the same. The daily visit, feeding and destruction of the web is more real than it's ever been. Maybe the reason why I'm so scared of spiders is because I've been one all along. Here, there are not as many barriers from you to yourself as there are at home. Things are plain. There is space and quiet you have to take even if you don't want to. Three blackouts at the house where I am staying have taught me this. Everything just stops......and then turns into whatever you make it to be.
The one thing I can say is that Africa is HOT (in every way) and it seems like these mosquitoes are the loudest I've ever heard. Oh, and the pineapples are the sweetest I've ever tasted....and dragonflies appear out of nowhere in swarms...everyday at 7:00p.m. hundreds of bats fly across the sunset...Ghanaians know how to do and fix EVERYTHING...they describe tragedy poetically by saying things like "eaten by the sea"...and I see like five different kinds of butterflies in one day. I guess that's more than one thing, but for real, from what I've seen so far, bush genius"...reigns supreme over nearly everybody". African folks, ALL OF US, are super advanced. "High Life" and "Hip Life" are the shit, (Yo! Hella dope!) and on some pluralistic, global collective African identity, it's looking like love is finally winning the game from the inside out.
It really was such a blessing to have arrived in Ghana after receiving the news that Barack Hussein Obama, a man of African descent, had become the next President of the United States of America. All of Africa is a glow. Smiling faces shouting Obama's name as I walk by, " What country?! What country?! Black American?! Yes! Obama won! We are so happy! We Africans are so happy!". And I am, for the first time ever in my life, proud to be from the U.S. I'm not saying I'm 'bout to start rockin' stars and stripes, but it does make me happy to know that my grandmother and parents got to live to see this day. Out here it has given me a sort of protection that I would not have had otherwise.
Accra is big and yeah people CAN speak English, but it's not like they do if they don't have to. Just like how we switch it up at work. Same thing. They ain't tryin' to be formal in the kick it. Life here is slow and sweet. People work hard, pray hard, and rest well. Everyone stares at me wherever I go. I get asked if I am a man or a woman at least once a day because I have a short haircut and refuse wear earrings. Most of the people that ask have shorter hair than I do.
I have been reading a lot. Mostly this book Coco gave me called "The Palm Wine Drinkard". It's a wild ride to say the least. I find myself having to move around or make up choreography just to go to sleep. Last night it was time signatures. For those of you that know how I can be, I've done good. Only one tantrum with a taxi driver that grabbed my arm and tried to charge me 8 Ghana Cedis for a ride that should have costed 5. That was okay tho'. It forced me to learn how to take the tro-tro (public transportation) by myself. And yeah...the engine of the first tro- tro stalled and filled the entire van up with smoke, but we got out quick and after the crowd surrounded the driver, we got our money back. And okay, we had walk helllllla far to get to the second tro-tro where I got a fat bruise on my arm trying to cram into the seat. I wasn't upset that we never arrived at my stop because the driver was tired and told everyone HIS neighborhood was the last stop. Walking through some marketplace cuts in Africa at night in the rain is whussup....(lol), but, let me be honest, when I got to the middle of the dark, muddy bus station and people kept directing me to the wrong bus, I had to just bite the bullet and get in a taxi.
As far as the dancing and drumming goes, I am just beginning my training. I've been mostly just trying to get myself situated. I've been here for eleven days. Got a phone and a room. I'm staying at Mr. David Amoo's family home in North Kaneshi (the Swanlake district of Accra, by St. Theresa's). Mr. Amoo is a cheif. His voice is the drum that calls the village together. His brother and nephews build every kind of drum that comes out of Ghana here. In the words of my dear friend Guy DeChalus, "BUUUUSSSH!!!!".
Mr. Amoo is the Artistic Director of the National Ghana Dance Ensemble, a truely amazing artist and human being (as are the members of the ensemble). It's inspiring to see another Artistic Director in his creative process. Playing the role of an observer during this particular experience of art building and discovery has reaffirmed my position that "My art can never be based on white supremacy". This is the only way it's core can remain strong. I can not judge what I do and how I do it by European based models of assessment. Here, this seems to be very clear. It's not even a discussion. Not having to explain why what you do is just as refined and classical as European dance? What is that? Can you say the hope and the dream of THIS slave? Lol.
Nah, I'm not a slave, but for real. What?! I wish there were more people like Mr. Amoo in my part of the world. I don't even know what my life would be like if I didn't have to spend so much time justifying what I do to the "white" dance world. Lol. I guess that's the give and take that makes my art "so dense" oooo.
For the record, for those those of you that say "black" dance is repetitious, there is too much unison etc....repetition, shape, and direction in "black dance/art" mean something totally different than what they do in modern dance and ballet. We are energetically trying to acheive and fix the things that are broken in our communities. Things that were broken by European colonization and imperialism. Things that WE continue to break because WE have been trained by "His" story not to honor our legacies and the amount of intelligence we possess.
We dance in unison to create unity. We repeat ourselves to create the volume it takes for our ancestors to hear us and the harmony it takes for us to hear each other. All I'm saying is that I'm not down to continue sitting on these dancer talk back panel things we have to do sometimes when we present our work, and pretend like the way the dance community at large discusses dance is all inclusive. Boom. That's enough of that.
Both Mr. Amoo and myself are rigorously and whole heartedly working to expand the vision of our companies. His dancers are brilliant. Everything they do is passion filled. And ofcourse they do everything. Sing. Dance. Play the instruments. Make the costumes. They are so eager and motivated to learn as much as they can. The company is rehearsing for a month long tour to the Netherlands. They leave next week and will return December 23rd. Half of the company will go and half will stay behind. Hopefully I will get a chance to work with them. It is an honor to have begun creating a personal and professional relationship with Mr. Amoo's family and company. Everyone has been very genuine and nurturing. They have shown me nothing but love.
In saying this I also have to recognize Osei and Yao, the Artistic Directors of Asaseyaa Dance Company in Brooklyn . These brothas have also shown nothing but love and enabled me to make this important link. I am eternally grateful.
I learned two songs, a break, and two dances yesterday from my drum and dance teacher Robert Fugah. It was good to get down with those brothas. I think they were surprised that I could hold down the bell and shaker rhythm so tuff. Sekou you would have been proud. They said, "You dance like an African woman." I said, "I am an African woman." We laughed. The Ewe stuff is almost identical to Haitian music and the way they fall on the rhythm in their dances is JUST like how we do in Haitian dance. I also see where we (African Americans) formed our relationship to the base. This particular vein of funkiness is a vital sign of our people.
Other than that, I ate my first hardcore African meal of fu fu and giant snails from the bush yesterday. It was actually pretty good, but the texture and just the whole snails are my friends thing kinda weirded my out a little bit. It was an ice cold moment tho'. The Ghanaians at the African food spot (LaPaloma) started to hate, like I was weak and couldn't handle it. And yall know.... as much as I complain, I'm not walking away from a battle. Especially when I know Imma win! Please. Stealth as a ninja in the night tho' dawg. Down'd it like a champ. They started smiling and hugging me and calling me sister. Lol. Africa iz Africa. Ase.