Where clear crabs slide sideways across broken sea shells and glass, there is a magnificent tossing and turning. To get there I escaped a traffic jam and ran past a cemetery to the North Kaneshie STC bus yard. "Do Not Urinate" was painted on the wall. A man was peeing there. Dead shrubs and trash were all around. The tombstones were broken and covered by bushes. I was afraid the bus had left me, but I arrived just in time to link with the two sistas from the States. I met them at "Bless the Mic" the night before. Erinn and Asia. Inspiring scholars, genuine, kind, and moving with the same purpose as myself. The bus to Cape Coast pulled up, we got on, and before I could really wrap my brain around where we were going, we were there. A guest house called "One Africa". My first full breath in six weeks was situated in raw and violent piece. There is a Diasporan community there. Brotha Shabazz made us feel so welcome. Finally, I wasn't alone. It was "The Africa of the African-American imagination..." as Erinn calls it. This was the thing I needed to help me remember the love.
The condemned cell at Elmina Dungeon. (Ghana, 2008)
Still, the coffin was churning and busting thru sky. A stampede of white stallions trample screaming angels and choke a catarwauling into the sea. They took the Ochosi charm that Kelly gave me from around my neck and placed me on the tip of an arrowhead pointed towards the past, penetrating the present. In blank stares, cactuses lined the coast. My head felt like a clear glass bowl full of royal blood and purple marshmallow cream being emptied and refilled.
Shouting the word Sankofa can get you killed. The shore is a Palo Nkisi, holding the sickness and pain of all those who drive nails in. Here it's power is beyond sacred. It's the rope between you and them. Everybody is tugging and trying to get heard. I had only seen it in movies and in pictures. Now I knew it in my body. A scattered breaking and resonance in my skin that burns to the top (even as I sit here to write this). Elmina is a skeleton. Cape Coast, a stone casket. It recognized me. At every moment, the swallowed souls rose up and demanded homage. Waves shaped like crescent moons sliced rock into shards of land beaten smooth and clean. Monuments to unmarked graves and runaway slaves that hid there.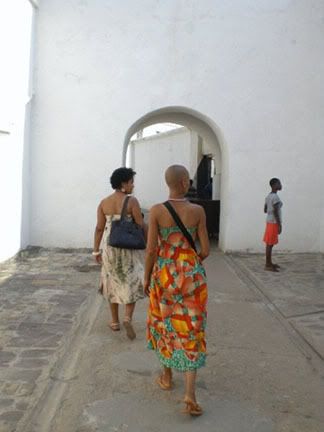 Erinn and Adia at Cape Coast Dungeon.
(Ghana, 2008)
To enter I began to ask permission. (Erinn told me she always does. I don't know how I forgot that. I think it was all just so shocking.) To leave, I rinsed my feet in pools of warm sunshine. Tears hot with fire. The most quiet and beautiful "Hell" I've ever been a part of. A mirror of my soul shrinking, swelling, and big as the ocean staring back at me. Peril riding the corners of question and flailing insult at my weakness. I am their grandchild. My blood remembers this time and place. My tears are libation for them, my pieces have always been offerings to spirit. I CAN NOT STOP. All I can do is pray that the source of my substance will be open to me.
At night they sing salt water mountains of rage and revolt. We are both fighting so hard to rest as ripples in a nightmare that never ended. There are moments of rest, but never silence. Like fire shooting out of a high voltage outlets into frazzled plugs, every grain of sand, salt and sea is charged and exploding. My feet sank as I sang them serenades. Every morning and evening I wanted them to know that I had come to receive their blessings ... that they would not be forgotten.
The music is my patience, the dance is my passion. Now I REALLY understand what my mama means when she says, "The one thing I can say about you is, you got it honest."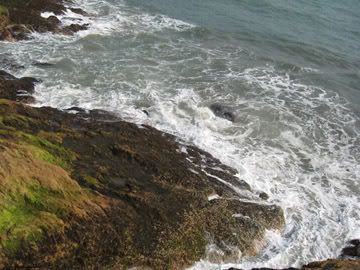 Ancestors in the water at the Cape Coast.
(Ghana, 2008)